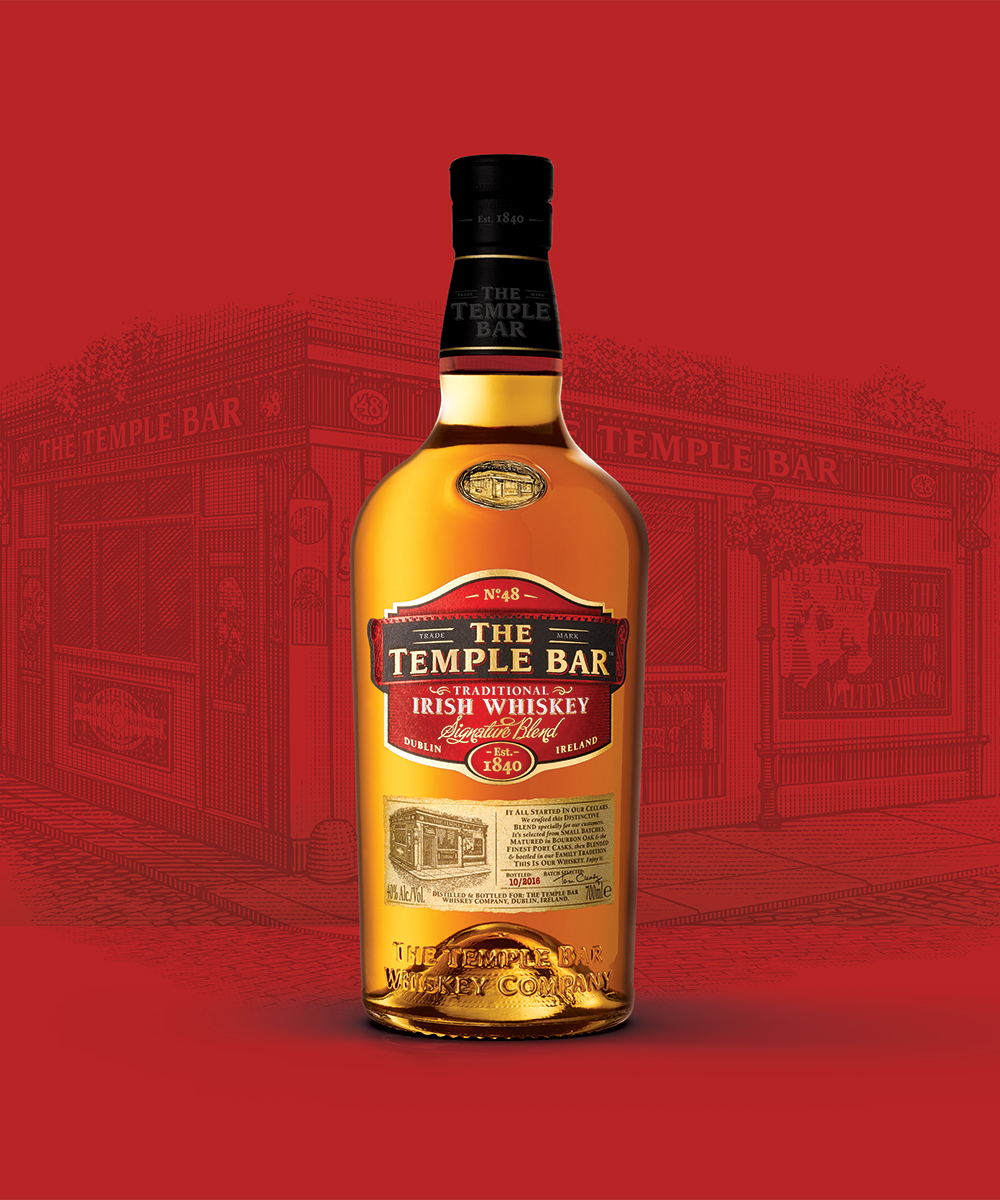 SIGNATURE BLEND

There was a time when every Irish
pub blended and bottled their own
distinctive whiskey. The owners put
their heart into it and the pub's
reputation rested on it.
At the Temple Bar we are reviving
that great tradition by selecting,
blending and bottling our whiskey
just as our family always did. This
is our Signature Blend Whiskey.
Enjoy it.
TASTING NOTES

LIGHT FRUIT with HONEY and a touch of SPICE. RIPE RED BERRIES with PLUM and SPICE.

CLEAN FRESH taste with HONEY VANILLA, more FRUIT and a SOFT SWEETNESS on the palate.

SOFT FINISH with HONEY coming back with more WOOD and SPICE.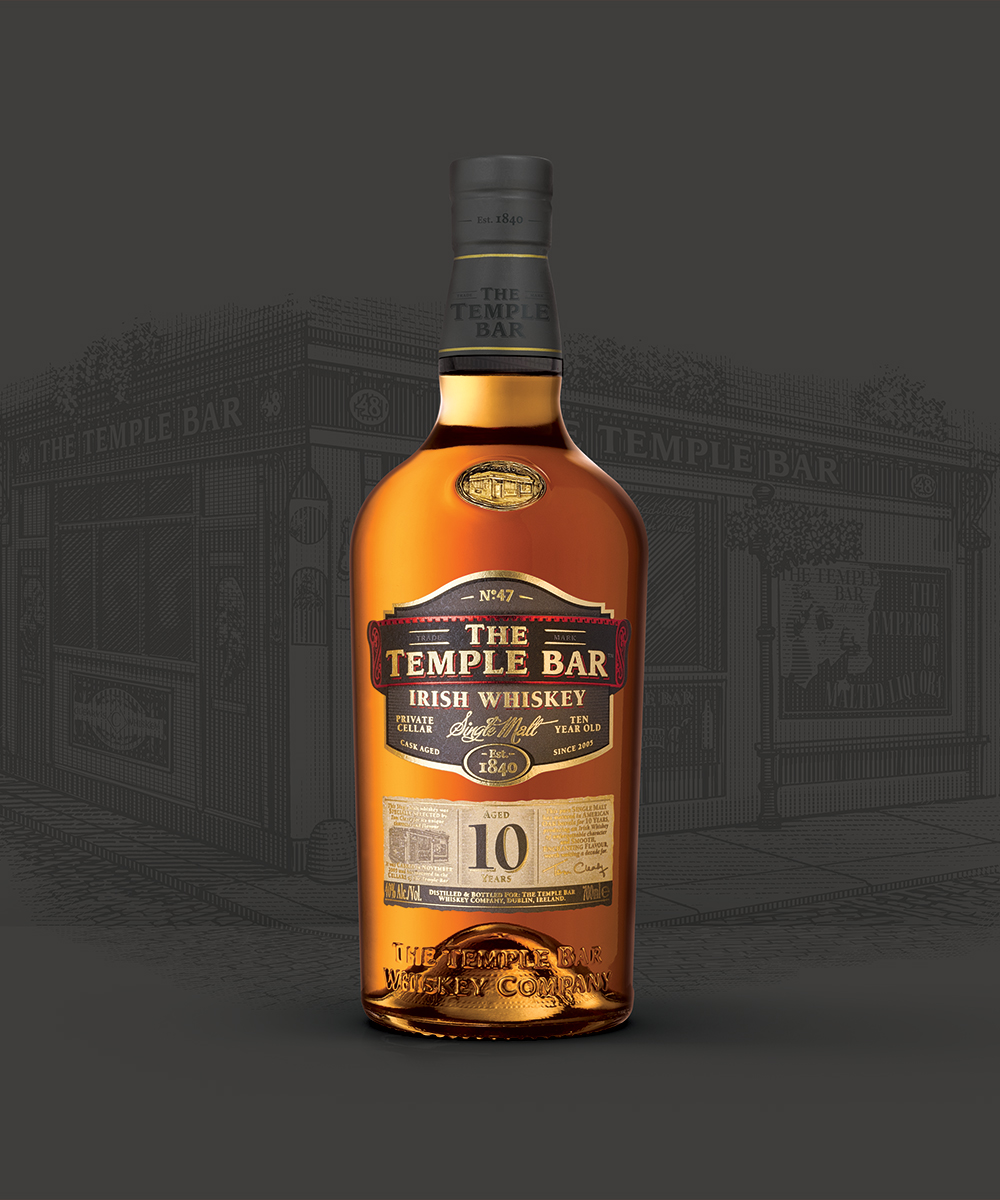 10 YEAR OLD

This pure single malt has been distilled
in traditional copper pot stills and
matured in American oak barrels for
10 years, producing an Irish whiskey
of unforgettable character and
smooth enchanting flavour…
worth waiting a decade for!
TASTING NOTES

FRESH and ZESTY on the nose. Notes of CITRUS, CINNAMON, SPICE and a true MALT DEPTH and SPICE.

SMOOTH WELL BALANCED flavour reveals HONEY RIPE FRUITS, HONEY, VANILLA and NUTMEG and a SOFT SWEETNESS on the palate.

SOFT finish with HONEY coming back with more WOOD and SPICE.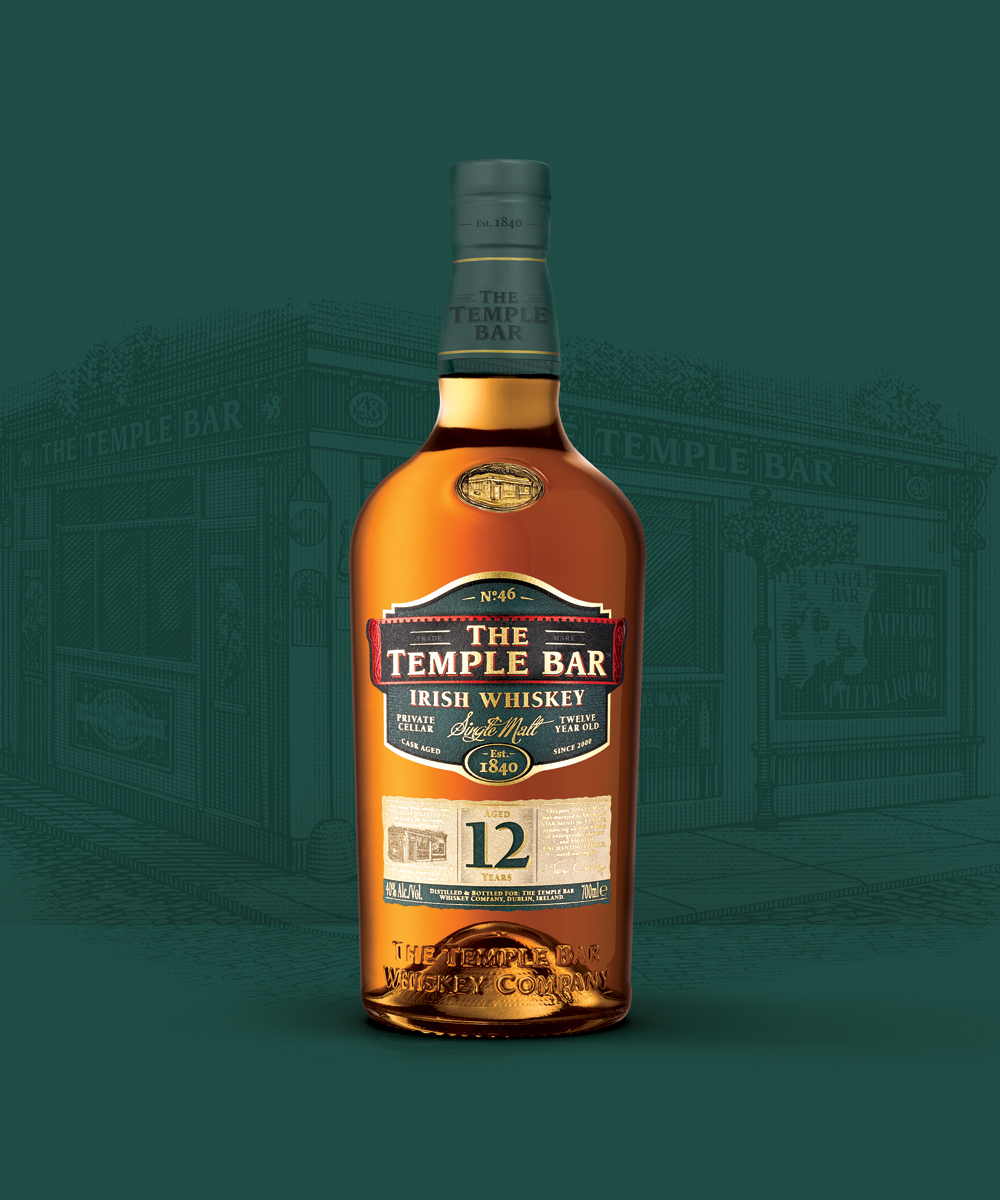 12 YEAR OLD

This Limited release 12 Year Old Single Malt was distilled in a small traditional copper pot still and matured in fine oak casks. It is characterised by its balanced taste profile.
Having matured for 12 long years,
this fine Single Malt is perfect for celebrating a special occasion.
TASTING NOTES

DELIGHTFUL AROMA with HONEY notes of ORANGE on the NOSE.

FLAVOURS of spice, sweet vanilla and oak notes on the palate.

THE FINISH is LONG, adding to the ENJOYMENT.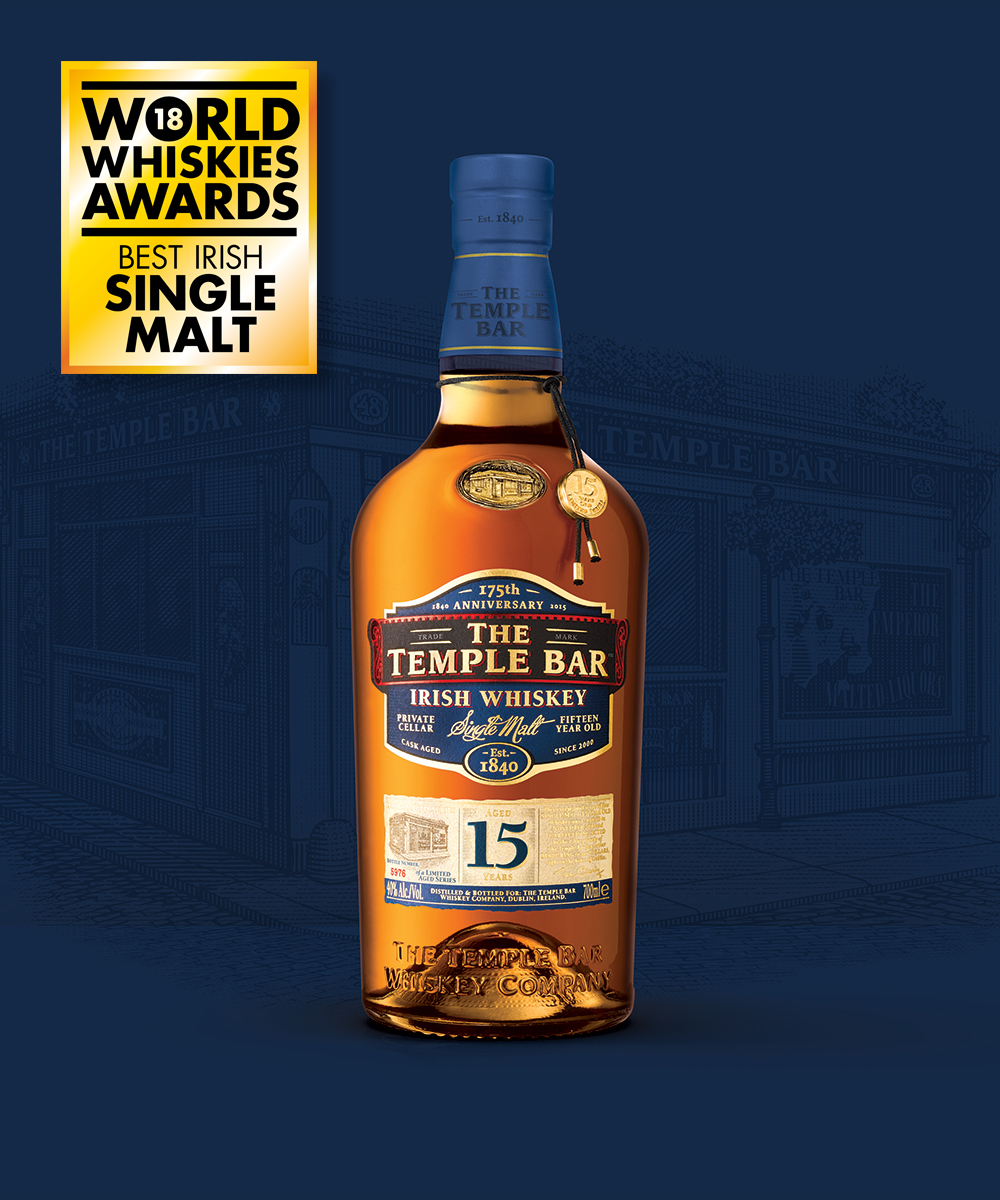 15 YEAR OLD

This exceptional series of fine Single malt 15 year old Whiskey was casked in November 2000 and carefully selected by the Cleary family of The Temple Bar for
maturing in their cellars, right in the heart of Dublin. A limited edition with each bottle individually numbered, it has been specially selected to commemorate the 175th anniversary of The Temple Bar.
This rare whiskey made from 100% malted barley was double distilled in small traditional copper pot stills and
matured in casks that once held the finest Bourbon Whiskey.
TASTING NOTES

characterised by its elegant and balanced taste profile.

aroma is fresh and fruity flavour is elegant and well balanced with a definite zesty tang of lemons and oranges.

SOFT finish with HONEY coming back with more WOOD and SPICE.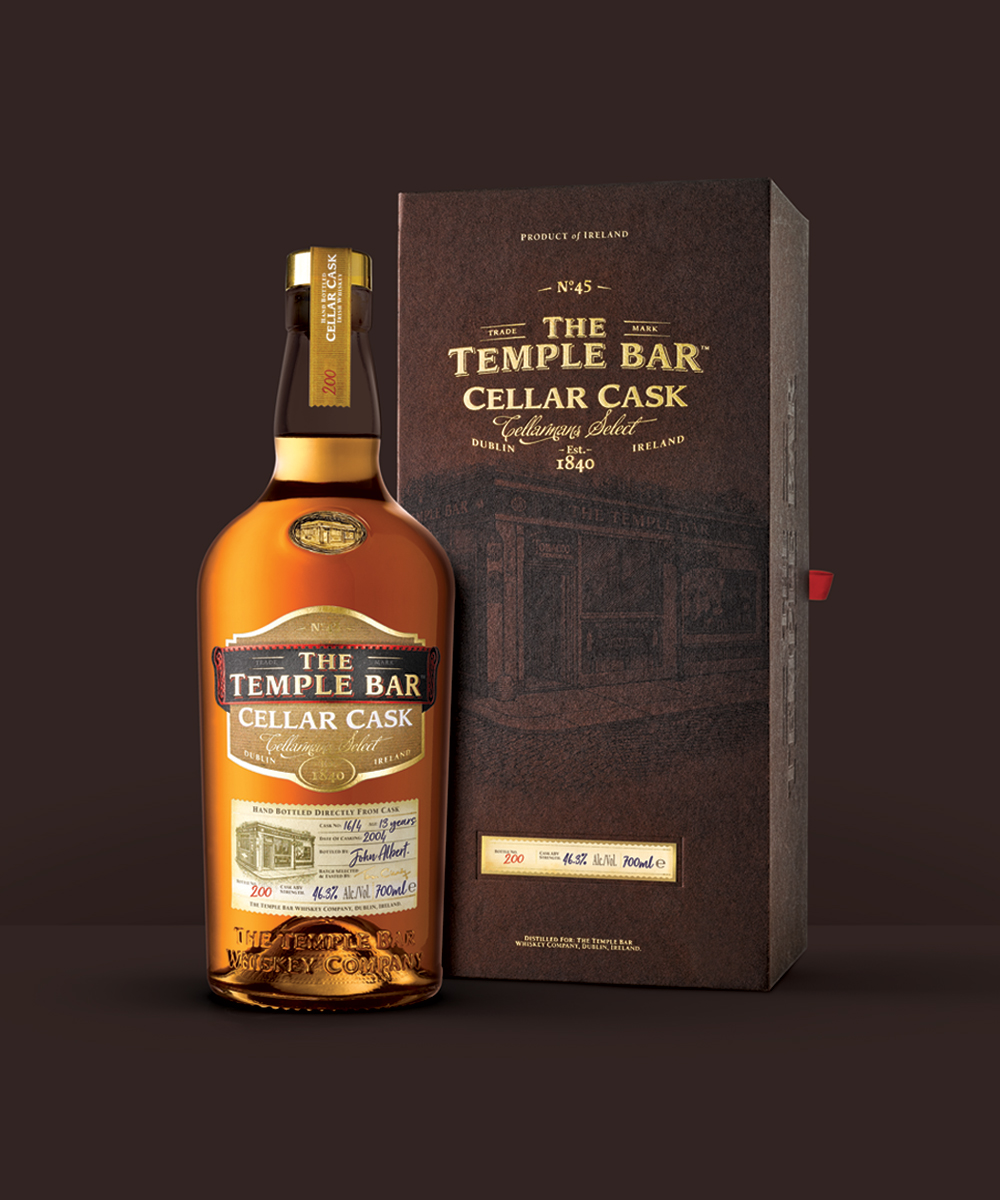 CELLAR CASK

This exclusive cask strength whiskey
has been specially selected from small
batches and matured in oak casks for
our customers to fill privately in our
distillery store. Each cask has its
own distinct flavor, profile and
strength and each bottle is uniquely
numbered and recorded in our ledger
in The Distillery Store for posterity.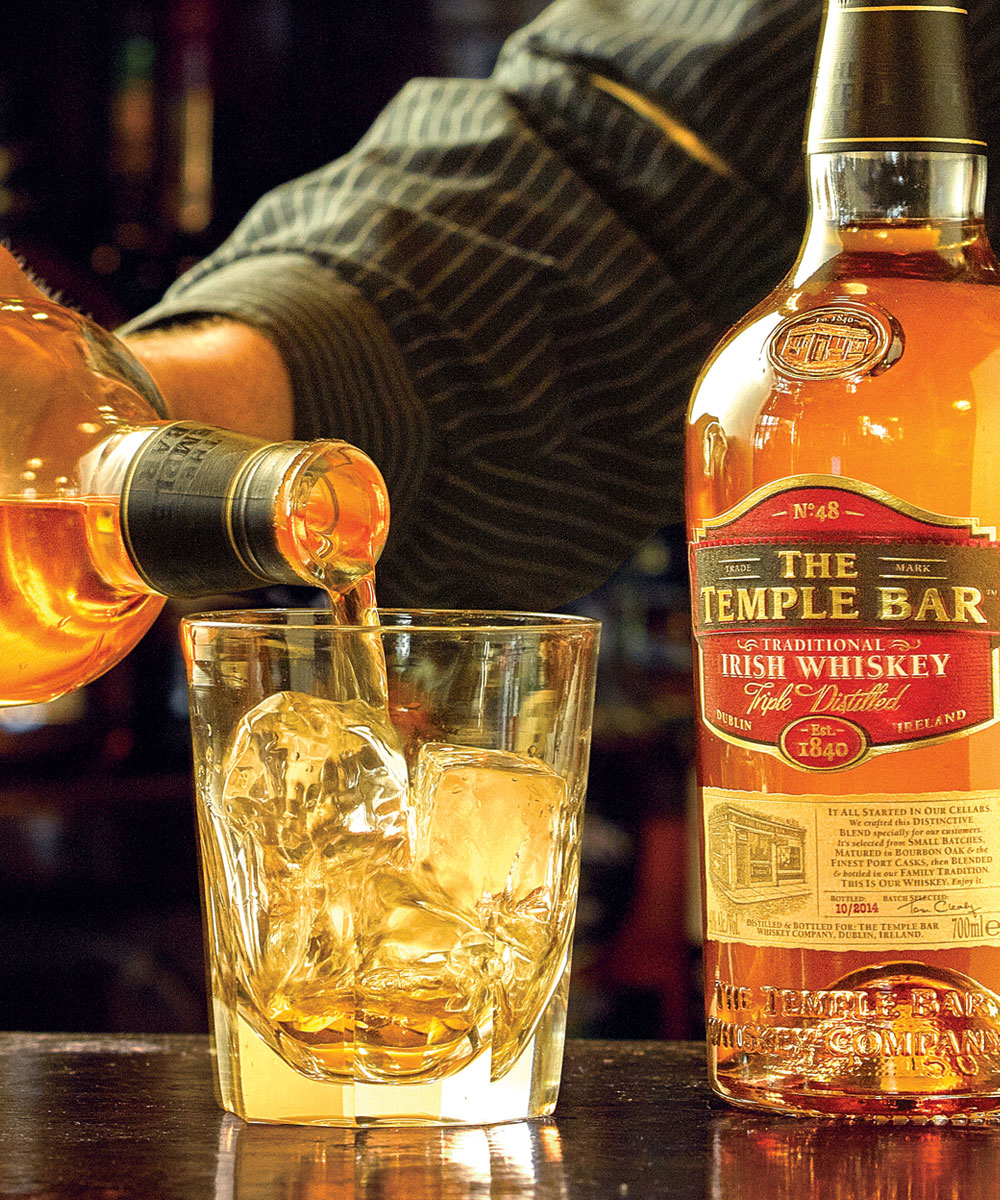 OUR STORY

Tom remembers his father and
grandfather blending and bottling their
unique "house style" Irish Whiskey since
the 1920's. A unique collection of casks
always rested in the traditional cellars.
These casks were hand selected at just
the right point in time and then blended
until a style was developed that reflected
the bar. That was what made their
Whiskey unique.
Today the Cleary Family are continuing
that passion for developing and blending
their unique collection of Irish whiskey.